.:Latin Music Fest's Event: Voices of Latin Rock.
August 27, 2005
Photos courtesy of
Jorge Zevallos and Dan Thede
at Studio 16
Click on the photo to enlarge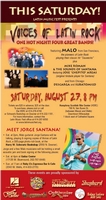 Announcing "The Voices of Latin Rock":
"Voices of Latin Rock " (Click on the image to the left for larger version) is confirmed for August 27, Saturday night, at the Humphrey Scottish Rite Center in downtown Milwaukee, at 8:00 p.m. (near Cathedral Square) with multiple bands and the legendary, west coast Latin Rock pioneers, Malo headlining.

Harry W. Schwartz Book Shops will have a book signing at 2 pm on August 27th, at the Downer Ave. store. Co-author of the Hal Leonard book, Malo guitarist and founding member Jorge Santana will sign books. Jorge may play guitar, as well as CDs and read from the book.




Voices of Rock Lineup
(Click on the above images for larger version)
Subatomico
Descarga
Mike Roman & The Sounds of Santana featuring: Jose "Chepito" Areas" the original Timbale player from Santana
Headliner: " World renown MALO" ! with Jorge Santana